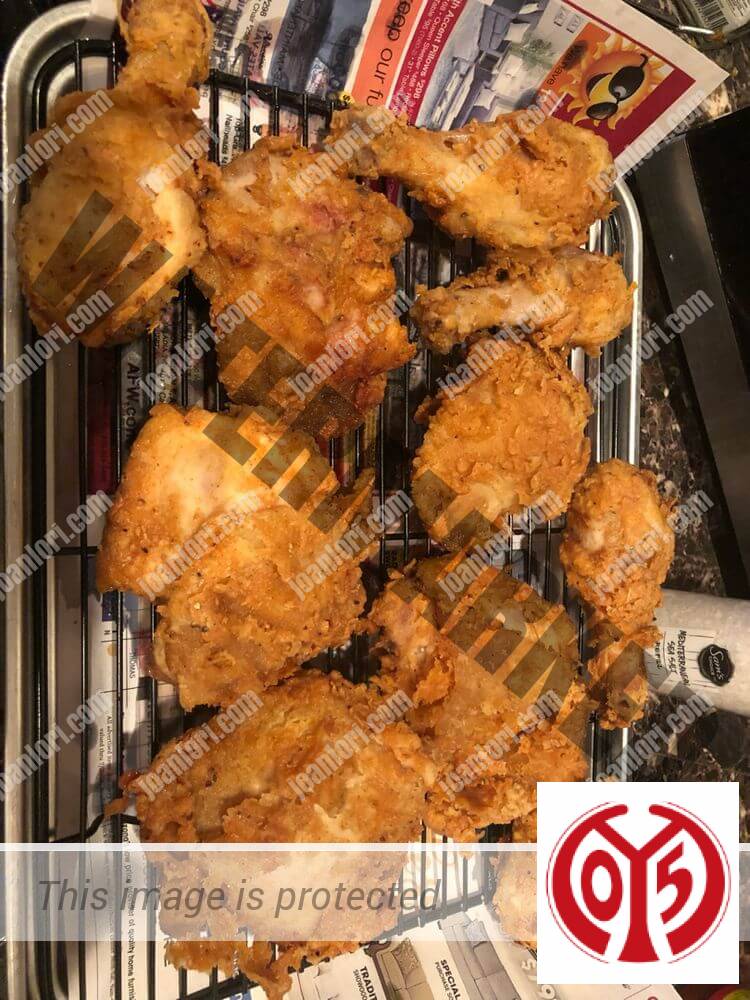 Let's see how to make southern-style fried chicken, a very typical American fried chicken recipe from the south of the United States. The southern chicken style is a fantastic battered chicken recipe, where the chicken pieces with their skin are coated in flour and a mixture of spices that we will see below.
The cooking is carried out in abundant oil (either in a fryer or in a pan). The result is chicken pieces with a beautiful golden color, a crispy texture, and juicy meat that contrasts very well with the rough surface of the southern fried chicken batter. My version of the American fried chicken or Louisiana-style chicken recipe uses spices such as paprika or ginger, but you can modify the ingredients to suit your taste.
Since I don't have a deep fryer, I decided to prepare it using a deep frying pan, which also allowed me to supervise one by one the pieces of chicken I trained in this way.
To make this recipe of Louisiana-style chicken, I used legs and thighs for juicy and economical. However, the remaining pieces of a chicken can be prepared with equal success. The recipe is straightforward to follow. The most important thing to consider is to take care that the chicken is well cooked and that its interior is not reddish.
Ingredients:
8 chicken thighs
1 cup milk
1 cup flour
1 egg
1 teaspoon paprika
1 teaspoon salt
1 teaspoon oregano
1 teaspoon pepper
1 teaspoon onion powder
1 teaspoon garlic powder
1 teaspoon ground ginger
Enough oil
Preparation:
Place in a deep bowl or airtight bag the cup of flour and add the spices. Add the paprika, salt, oregano, pepper, onion powder, garlic powder, and ground ginger. Mix the dry ingredients very well to be able to distribute all the flavors through the flour.
In another deep bowl, place the milk and add the egg. Beat the egg with a hand whisk or a fork until well blended.
Place in a deep frying pan or saucepan enough oil to fry the chicken very well. If you have a deep fryer, it is a perfect idea to use it to make it easier to control the temperature.
Dredge the chicken in the milk and egg mixture and drain the milk a little.
Then dredge the chicken in the flour and spices mixture; cover the chicken perfectly.
If you want a nice golden crust, you can coat the chicken again.
Dredge the chicken pieces again in the milk mixture and again in the flour mixture until coated.
Fry the chicken pieces until golden brown on both sides and crispy.