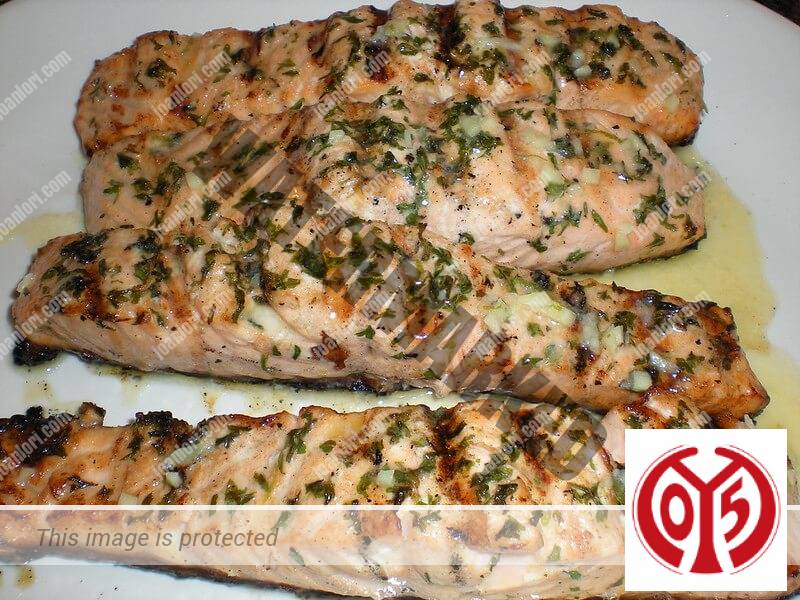 This isn't the first time I've written about a Ginger Garlic Sauce. I'm for sure obsessed with the combination of fresh garlic and fresh ginger, but this is the most addicting version to date. (Although I have a slow cooker version in the works, stay tuned!). Adding this sauce to a classic grilled salmon recipe is a home run for weeknight dinners or weekend cookouts with the company.
Our family is trying to incorporate more heart-healthy salmon into our diets lately. It is important to buy wild salmon vs. farmed because farmed salmon can be infected with lice (!!) and treated with antibiotics. Wild is definitely my choice if you can find it. Almost all grocery store fish is flash-frozen, so don't worry about buying your salmon from the freezer case. Just enjoy all the heart-healthy Omega-3s!
When I make grilled salmon, I use one 6-oz salmon fillet per person because it's so delicious everyone eats a whole piece. This recipe works for 4-6 fillets 6-oz fillets. This is a great dish to make for the company because it tastes like a restaurant dish but can be made in less than 20 minutes! I like to serve it with some brown rice and lightly sauteed snow peas.
For the source:
1/4 cup soy sauce (make it gluten-free by using GlutenFree Soy Sauce)
1 tbsp molasses
1 tsp fresh grated ginger
2 garlic cloves, smashed
1 tsp black pepper
Wisk all ingredients together in a small bowl.
To prepare the salmon:
Using a brush, thoroughly coat your raw salmon fillets (both sides). Reserve some of the sauce, and use it to baste the salmon while it's being grilled. Grill time is approximately 6-8 minutes per side. The salmon should just be cooked through but NOT overcooked. Salmon is delicate, so make sure to keep an eye on it.
Optional: You can coat the salmon with pan-searing flour before adding the marinade. This will give the final product more of a crust.