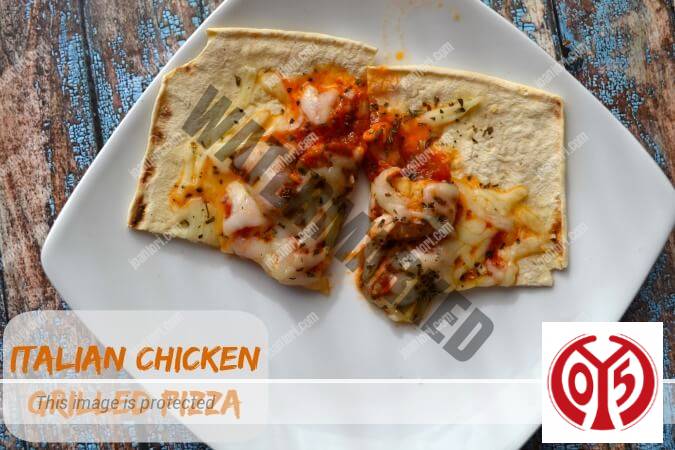 I've made at least three different versions of pizza with the Spicy Italian Pizza Flatbread, but one of my favorites is Italian Chicken Pizza on the Grill. It's so easy to do and only takes about 15 minutes from start to finished! It was a hit at our recent Memorial Day picnic — I had to go and make more mid-party.
Print Recipe
Italian Chicken Pizza on the Grill
Ingredients
1

package Flatout Spicy Italian Artisan Crust Pizza

contains six crusts

2

cups

shredded

cooked chicken (I make a double batch of chicken in the crockpot with a few cups of pasta sauce the day before. The sauce gives it some flavor, and I love having some extra cooked chicken on hand to make a quick chicken salad for busy nights).

3

cups

tomato sauce – jarred or homemade

4

cups

mozzarella cheese

shredded

1

cup

parmesan cheese

shredded

2

tbsp

dried oregano

2-3

cloves

garlic

chopped finely

splash of olive oil
Instructions
Lay the pizza crusts flat on a long sheet of aluminum foil. Drizzle each crust with some olive oil.

Using a spoon, cover each crust with a thin layer of pasta sauce. Then add the cooked chicken, dividing the chicken equally between each crust.

Sprinkle the mozzarella and parmesan cheese on the pizzas. Finally, add garlic and a pinch of oregano to each pizza.

Place the whole sheet of aluminum foil with the pizzas on it on the grill. Grill on medium for about 5 minutes with the cover down until the cheese is melted and bubbly.

Serve hot.
This is the perfect dish to serve at summer cookouts because it can be prepared in advance and just thrown on the grill. The only catch is that you won't have any leftovers.