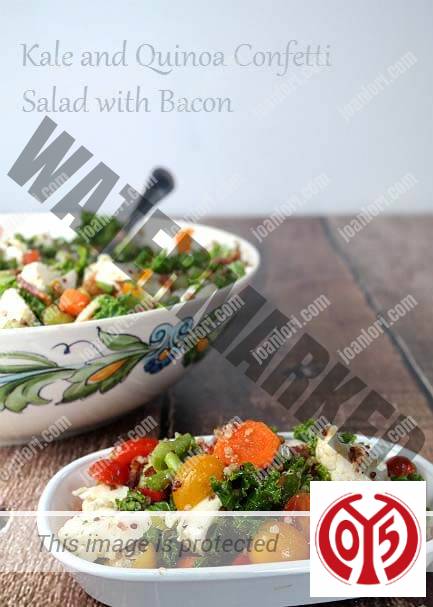 How does something this good for you taste so amazing? You're going to love this beautiful and delicious Kale and Quinoa Confetti Salad with Bacon, whether you serve it as the main dish or as aside.
Sometimes I just need a salad. Don't get me wrong, I'm a hard-core omnivore. I LOVE a gorgeous piece of beef or chicken with my veggies, but some days I am just in the mood for the flavors, textures, and healthy feeling that comes from enjoying a gorgeous salad. (My kids, grown now, still tease me about making them a "lovely salad". When they were growing up, the new "lovely salad" was code for packed with all the relevant ingredients I could find in the fridge. Lettuce and some dressing were not going to cut it.) The other members of my family are, typically, not as enthusiastic as I am about greens, 🙂 but this salad, as a side to their meaty main dishes is popular, even with them. It has a light, tangy, slightly sweet red wine vinaigrette dressing that simply makes this abundance of veggie flavors POP. You can be precise with all your dices and make a prim and proper, pretty salad if you want; but I like my salads more rustic, with more shapes, colors, and textures than anyone can count. It's sort of like a party for your tastebuds, that way! 🙂
My other favorite thing about salads is that you can make them what you want. They're flexible, versatile, and easy to get creative with. If the veggies I have in my fridge don't match the ingredient list in the recipe — no worries — I can mix it up a little. So, can you! Take this recipe as a starter and then try to make it your own. Put your family's favorite in-season vegetables in. You ARE using in-season veggies, right? They're at the peak of flavor and the peak of nutrition when you purchase them during their natural growing season. In-season vegetables are always the least expensive, too!
There are three "secret ingredients" in this delicious salad, that I wouldn't omit or change. Wright Brand Bacon has become an absolute favorite for our family since we discovered it. It's easy for me to find at Walmart or Sam's Club and the quality is so superior, to any other that I have tried, that I can't believe we didn't know about it sooner. It's very thick cut and meaty with a fabulous smoky flavor. It's integral to the combination of tastes in this salad. Next is quinoa. Quinoa gives this vitamin- and mineral-rich salad a HUGE protein boost and even more great flavor. Kale is a superfood green that is easier and easier to find year-round, depending on where you live. It prefers a cooler growing season, so the opportunities to find it fresh and affordable are more plentiful in almost any season. Kale and quinoa, together? Well, that just puts you over-the-top when it comes to a nutritious lunch! To get to eat something that tastes this good satisfies so well and is so good for me is a fabulous treat! I know you'll love Kale and Quinoa Confetti Salad, as much as I do! Enjoy!
Love. this. salad! It's so flavorful and satisfying and the perfect lunch to keep me energized on a busy afternoon. Crisp, crunchy vegetables, delicious quinoa, and smoky bacon tossed in a red wine vinaigrette. What's not to love?!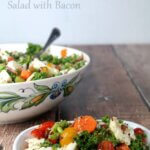 Print Recipe
Kale and Quinoa Confetti Salad with Bacon
Ingredients
1

fresh kale bunch

about 4 cups chopped

1

small head cauliflower

chopped into bite-size pieces

½

red bell pepper

diced

½

yellow bell pepper

diced

½

orange bell pepper

diced

10

oz.

cherry tomatoes halved

4

stalks celery

diced

2

large carrots

sliced into rounds

1

lb

asparagus

chopped

3

cups

cooked quinoa

cooled (I mixed red and white, but choose your favorite varieties.)

6

Wright bacon rashers

crisp chopped and cooked

½

cup

red wine vinegar

1

cup

olive oil

¼

cup

sugar

salt and pepper

to taste
Instructions
Fry or bake your Wright Brand Bacon, until crisp. Drain and set aside to cool. (Wright Brand Bacon is a Tyson product and my absolute favorite bacon in the world! I love the thick, meaty slices and smoky flavor!)

Wash the kale. This is one of those instances where you want to carefully rinse each leaf, as they often have bits of dirt, gravel, or sand, at the base, where the leaf meets the stem.

Once the kale leaves are clean, pull the leaves off the thick stem and vein that runs down the center of the leaf. That center stem/vein is tough and not good in the salad. You want just the leafy part of the greens.

Cut or tear the kale leaves into bite-sized pieces and add them to your salad bowl.

Chop or dice the other veggies for the salad and add them to the bowl with your kale.

Add the quinoa and stir to combine.

Chop the bacon and add that to your salad.

I like to use my blender to mix vinaigrettes. It helps the oil and vinegar to emulsify and blends the flavors, well. Place the vinegar, oil, sugar, salt, and pepper in the blender pitcher and blend on high until well mixed.

Start with about 1 cup of the dressing. Pour it over the salad and toss. Add more, to taste, depending on how much dressing you prefer.

Chill the salad until ready to serve.