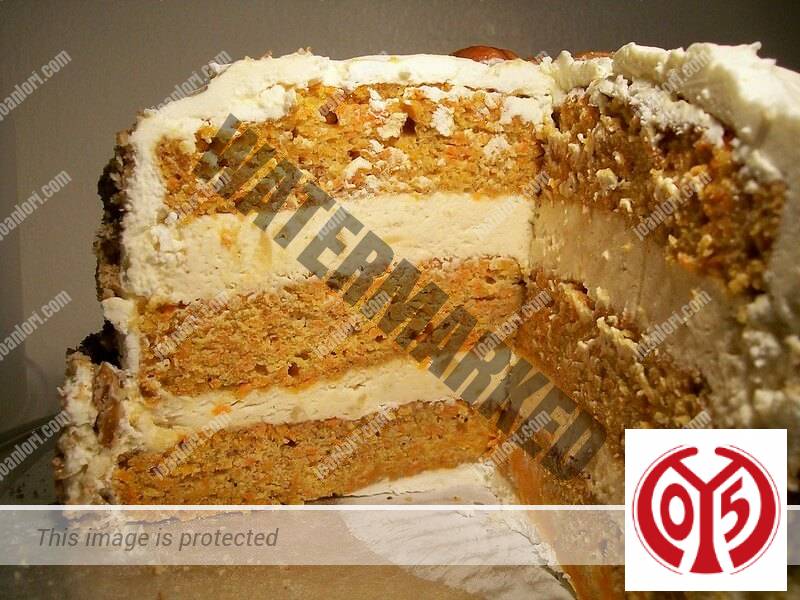 Surprise your children or the people you love the most with this delicious carrot and white chocolate cake. With it, you can make a different and nutritious recipe for the whole family. Read on and discover from RecetasGratis.net how to make a carrot cake.
ingredients :
1 cup white chocolate frosting
300 grams of wheat flour
300 grams of grated carrot
150 grams of powdered sugar
150 grams of brown sugar
4 units of eggs
1 teaspoon of baking powder
1 teaspoon of baking soda
1 pinch of salt
1 tablespoon of vanilla essence
1 teaspoon Powdered Ginger
1 teaspoon ground cloves
1 teaspoon Cinnamon powder
200 milliliters of sunflower oil
1 handful of ground almonds
instructions:
The first step to make the carrot cake recipe is to enlist the ingredients.
With the help of a sieve, sift the flour into a bowl, adding also the baking soda, baking powder, cinnamon, ginger, ground cloves, and salt. Reserve this mixture.
In a separate bowl add the sunflower oil, powdered sugar, brown sugar, and eggs.
Beat the above ingredients very well until you see that you have a fluffy and homogeneous mixture.
Add to the previous bowl the flour mixed with the rest of the dry ingredients.
Add the grated carrot and mix the ingredients well until well blended to form the dough for the carrot cake.
Grease a heat-resistant pan and add the carrot cake mixture. Preheat the oven to 180ºC. When it is hot, bake the cake for about 60 minutes, or until a knife or toothpick inserted in it comes out clean. When it is ready, let it cool so that it can be unmolded.
Once the cake is cool, remove it from the mold and with the help of a serrated knife cut it in half to be able to fill it. In this way, take the sponge cake base and cover the top with a layer of white chocolate frosting. Place the other half on top of the cream and finish covering the entire cake. Set aside in the refrigerator until the cream is firm.
Serve the white chocolate carrot cake with a sprinkling of ground almonds or any dried fruit of your choice. You can serve it with cinnamon tea or a fruit smoothie.