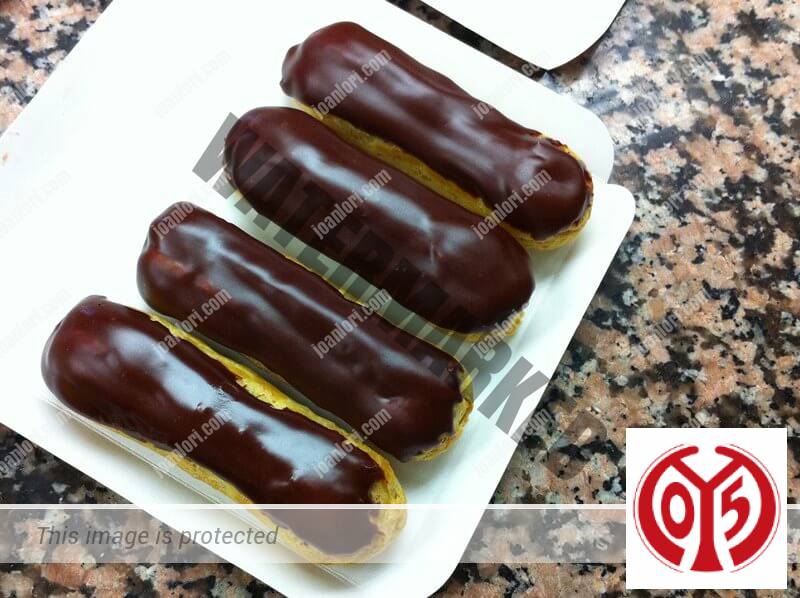 With this recipe for chocolate eclairs, you will become a real pastry chef. The best thing about this sweet is that you can fill it with whatever you like. You can fill them with custard, cream, cream with strawberries, just chocolate, chocolate, and nuts. You can even make delicious savory eclairs. If this is your case, do not put the chocolate coating, and that's it.
Ingredients
75g milk
60g butter
3g salt
6g sugar
75g of water
90g flour
3 eggs size M
100g of 70% chocolate
Instructions:
To start with the chocolate eclairs recipe, the first thing to do is to prepare the choux pastry. To do this, put the milk, water, butter, sugar, and salt in a saucepan over medium heat and bring to a boil.
When it starts to boil, add the sifted flour all at once and stir until it forms a dough that comes off the sides of the saucepan. Remove the dough from the heat.
Then start adding the beaten eggs one at a time. Do not add the next egg until the previous one has been added to the batter. Repeat the operation until all three eggs have been added.
To continue with the chocolate eclairs recipe, preheat the oven to 200 degrees Celsius and prepare a baking tray lined with parchment paper.
Then transfer the choux pastry to a piping bag with a wide curly nozzle and make a kind of churros 4 or 5 centimeters long. It is important to leave space between each eclair so that they do not stick together when bakingBake at 180 degrees Celsius for approximately 12 minutes.
Once this time has passed, remove them from the oven and let them cool. Once cool, open them with a knife and put your favorite filling.
Finely melt the chocolate coating and coat the surface of each eclair. Let cool until the chocolate solidifies. And now you have your chocolate eclair recipe ready.