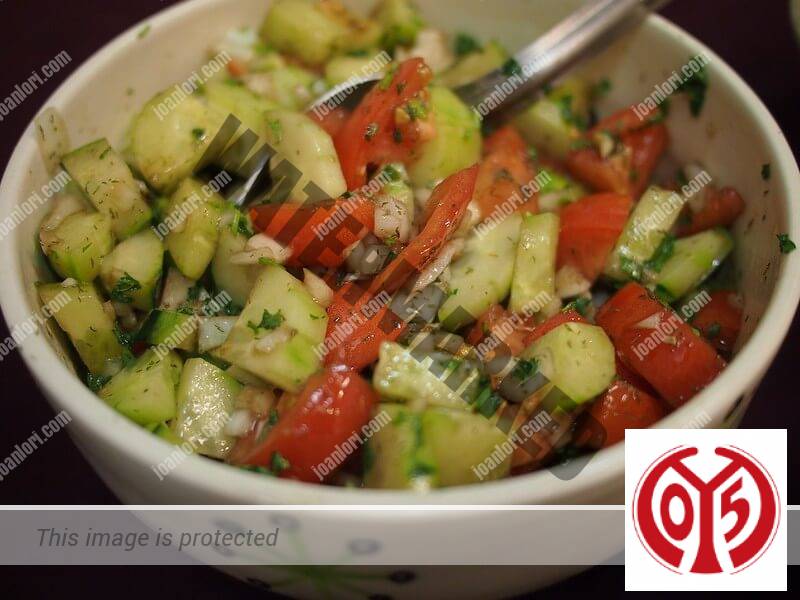 This salad isn't actually on our menu, but don't let that fool you…we've made and/or eaten this salad/salsa 3 times in the last month. Seriously. And let me tell you why.
You guys, this is one of those things that I had a bite of and legitimately couldn't stop biting into. Not at all. I was a freak A co-worker took it pumpkin whittling with a bag of tortilla chips and I think I ate about 75% Okay, I'm pregnant, so that might have something to do with it (seriously, give me ALL the salty/savory/spicy stuff + carbs), but it's so good. After each bite, I swore I said, " This is so good. I need to stop." And I simply didn't.
I did make it at the house just for us and we blew through it within a few days, and then when we did make it for friends who were over for brunch one day, I'm pretty sure we didn't have any left when the meal was finished. And there were just 4, of us, eating it.
So, there's one thing you'll see in the recipe that's not in my photos, and that's a jalapeño bell pepper. While the first time I had this dish it included a jalapeño, I don't have good luck with those bad boys. Once, a few years ago, I had an incident where I ended up with a spicy jalapeño juice in a cut and it was a horrible 4 hours before I found out what will make the awful burning go away. I had my finger in milk, yogurt, wrapped in ice … Nothing worked until I tried vodka. Yes. VODKA. It worked wonders and I was so upset that I wasted so much dairy on my 4-hour saga.
So yeah, go ahead with your jalapeño if you're not afraid. As I said, I've had this both ways, and it's just the bomb. That's right, I said it. The bomb.
There you go, guys. That's all I'm going to throw at you this day before the best vacation because now you have time to run to the store to buy the ingredients for this salad/salsa. After all, I guarantee no one will be fighting over cucumbers, rice vinegar, or ranch packets in the Thanksgiving fight. You may have to drop a few 'bows for the onion, but I think you might be safe if you head for the candy!
Dip it, chop it, bake it, spread it…this tasty cucumber salad will have you reaching for anything to eat. So versatile and a fun little side to any dish that could use a little jazz. Even that adorable turkey with its usual suspicious companions!
SPICY CUCUMBER SALAD
INGREDIENTS:
3 large cucumbers peeled then cut and quartered*.
1/2 of sweet onion chopped very fine
1 package dry ranch dressing
1/2 cup rice vinegar
Optional: 1 small jalapeño chile seeded and finely chopped
INSTRUCTIONS
Place cucumbers and onion (and jalapeño, if using) in a medium bowl. Toss to combine.
Sprinkle the ranch packet over the cucumber and onion mixture, then drizzle with rice vinegar. Toss gently until everything is completely coated. Serve as a garnish or as a dip for crackers, chips, or bread.
Put the salad in a covered place and refrigerate for at least 1 hour just before serving. Leftovers will stay fresh and airtight in the refrigerator for up to 4 days.