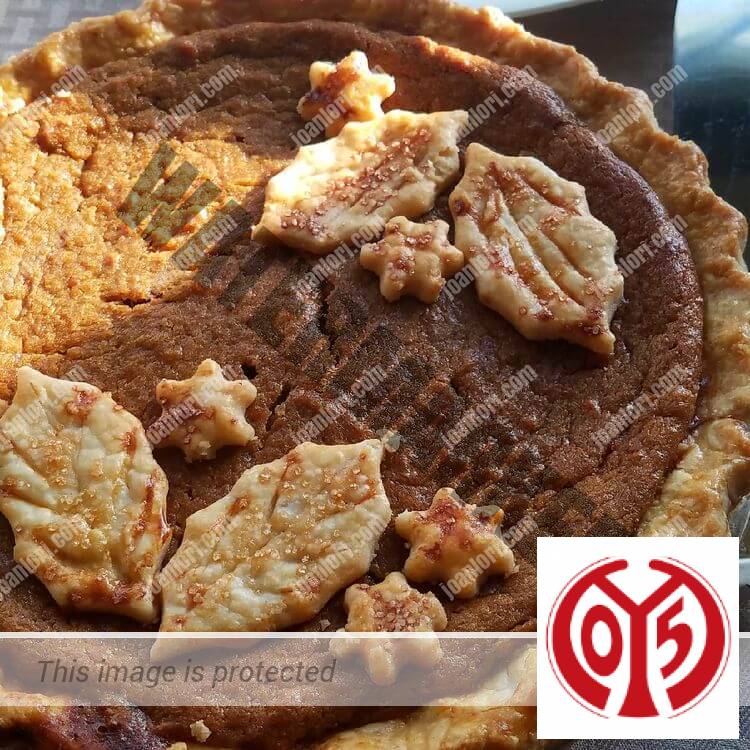 If you like sweet potatoes, you will love today's recipe: a delicious sweet potato pie without sugar. It's effortless to prepare, and it's great.
Well, November is coming to an end, and with it, the sweet potatoes are running out in my pantry. I still have some left, it remains to be seen what I do with it, but the number of recipes with sweet potatoes will be decreasing.
So, I decided to make a sweet potato pie or sweet potato pie with the sweet potatoes I had left. I had wanted to make it for a long time, and this morning when I saw the sweet potatoes there in the kitchen, I thought… come on, let's do it.
It has turned out an adorable cake, too bad that today is a little cloudy, and the photos have not come out very well, but you get the idea.
You will see that I have put a base, like a cake, and frankly, I regret it a little. The texture of this cake is similar to that of a cheesecake, a little denser, and it doesn't need it at all because it has a consistency of more than enough to stand on its own. If you want to learn from my mistake, don't use a base.
And if you want to use it because you think it looks cuter, tries to use whole wheat shortcrust pastry.
However, I would choose a similar mold because I like the shape and that it is low. This sweet potato pie is dense and very filling, so it is better if it is down to make more minor cuts.
I liked the taste. It tastes like sweet potato, but it is very soft, very nice.
I hope you like it too. With December just around the corner and all the desserts for Christmas, we are already saying goodbye to fall recipes.
INGREDIENTS:
400 gr cleaned sweet potato
2 eggs L
125ml natural skimmed yogurt without sugar
100ml skimmed milk
70 gr ground almonds
1 level tablespoon of stevia powder
A pinch of cinnamon
Optional: a shortcrust pastry base
INSTRUCTIONS:
In a bowl, beat the eggs together with the stevia.
Add the yogurt and continue beating. Add the milk.
Chop the sweet potato and boil it. I did it in 4 minutes in the microwave, but you can also burn it in a saucepan with water. When it is very soft, mash it and leave it to temper for a couple of minutes.
Once it has cooled, add the sweet potato to the bowl with the eggs and beat to integrate it well.
Add the ground almonds and mix.
Pour the dough of our sweet potato cake without sugar in a mold to taste. I used a large cake pan (about 26cm) below, like a cake. If you are going to put a base, place it well before pouring the dough.
With the oven previously preheated to 180º, bake the cake for about 40 minutes, with heat up and down.
Let it cool a little, remove it from the mold and let it cool on a wire rack. And that's it!