Last year was our first time celebrating the holidays here in the UK, and while I expected the city to be beautiful this time of year (as it is every season of the year), I was completely unprepared for just how big a transformation it undergoes at Christmas. Twinkling lights strung along and over all the major streets. Ice rinks assembled in some of the prettiest locations in the city. A warm glow coming from the pubs as the fires are lit. The loud, festive atmosphere in the Christmas markets. Silly pantomimes in the theaters. People on the tube, gripping in one arm packages wrapped in shiny red and silver papers as the other struggles to hold on to the rails.
London is truly a magical place this time of year. I have never before lived in a city that works so hard to make this season look good, and perhaps no one does this better than London's major department stores. This year we decided to put a spin on our Christmas lights walk through London, and pay particular attention to the city's best Christmas window displays as we walked through the Christmasy streets. Our favorites will be no big surprise to those who've lived in London for very long. These six stores are known for going all-out for their favorite window shoppers every holiday season!
Harrods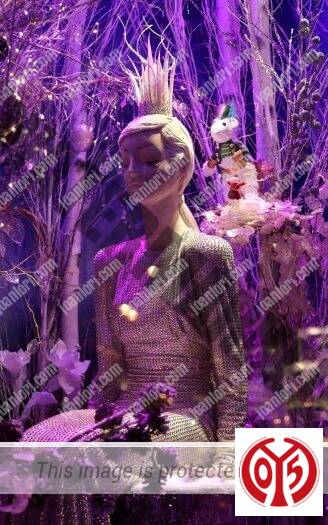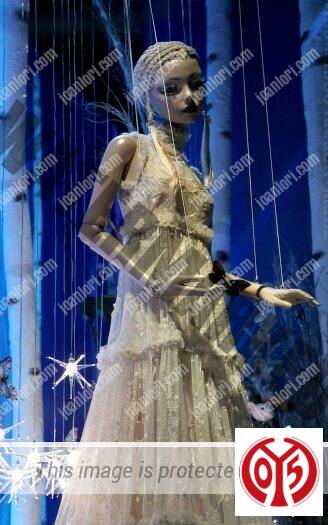 I suppose tradition dictates that the very best should be saved for last, but Harrods' world-famous Christmas windows are too spectacular to leave at the very bottom of the list! This was the store that, on seeing it last year, inspired me to plan this particular window-shopping walk. Last year, I was captivated by the unique style and attention to detail of the Harrods Express windows, and this year was no different. If anything, the new theme, The Land Of Make Believe, is even better.
Larger than life toys fill the storefront windows, my favorites of which were the ballerina pirouetting in front of the mirrors and the tiny, made-to-scale "mouse houses". Harrods' windows are always so detailed and creative that I get the impression the designers are much like Santa's elves in the North Pole. As soon as the last mannequin is placed, her crown adjusted just-so, I imagine them turning over to a blank sheet in their sketchbooks and getting straight to work on the next year's presentation!
Harvey Nichols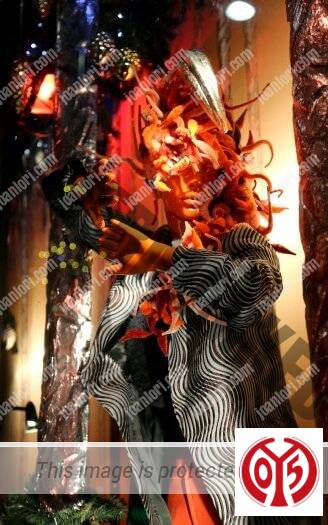 Harvey Nichols, while not in the same league as Harrods, does win the award for most colorful presentation this year. Tall metallic trees, bright lights, and mannequins dressed as fierce woodland creatures have transformed this storefront into a wild, enchanted forest. The most eye-catching part of this display, for me, was the headdresses and accessories on the models. They were very reminiscent of the Chihuly sculptures we'd seen earlier this year. Just a short walk down the road from Harrods, Harvey Nichols was the second stop on our walk. To be fair, we probably should have made it the first. Harrods is a hard act to follow! Next, we hopped on the Tube and alighted at Green Park for…
Fortnum & Mason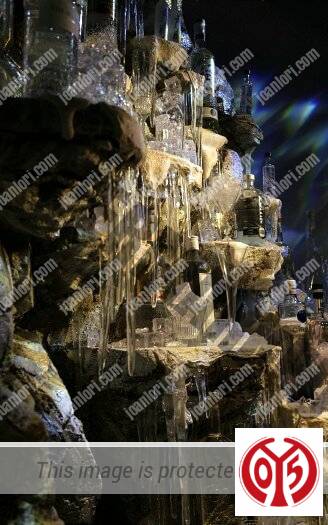 Fortnum & Mason in Piccadilly, at this location for over three hundred years now, is an icon in London. Their theme this year, Frost Fayre, is supposed to draw to mind the times, centuries ago, when it became so cold in London that the Thames froze over. (Hard to imagine now, seeing as we still have yet to see a single flake of snow in London and we've been here a year and a half!) Snowy caves, waterfalls, and ice mountains have all been arranged to perfectly show off the Christmas merchandise showcased on top of them. There's a level of classiness here that makes these windows incredibly eye-catching, even if they aren't as flashy as some of the others.
Selfridges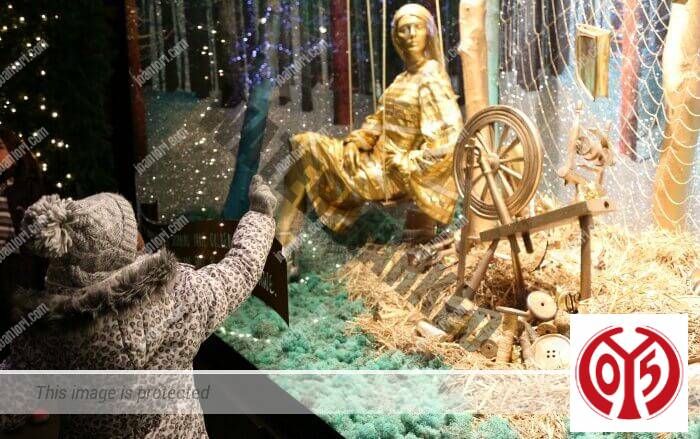 Oxford Street, one of my favorites to stroll down during the holidays because of the lights and the fake snow blowing from the rooftops, is where you'll find Selfridges. You won't be able to miss it. It's the second largest store in the UK, trailing only behind Harrods. And, not surprisingly, this was my second favorite of the Christmas windows we looked at. I do love a good fairytale theme! Twenty-five famous fairytales are depicted in the windows here, although, some did seem a little ambiguous. (And they've got Sleeping Beauty enclosed in the glass case. I always thought it was Snow White who was put in there!) Still, they've done an amazing job – I can't even imagine how much work goes into creating something of this scale!
John Lewis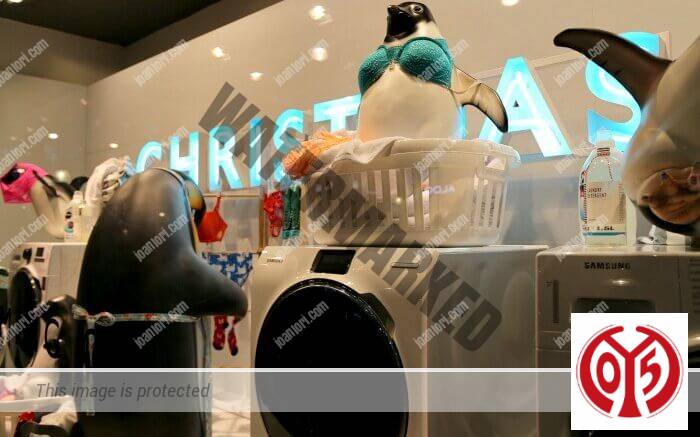 Right down the street from Selfridges is John Lewis where you'll find the adorable penguins who, if you live in the UK, you're sure to recognize. Monty the Penguin became somewhat of a celebrity after this year's John Lewis Christmas commercial began airing. You can view it here if you haven't seen it. Bring tissues. That song and the last scene nearly kill me! Anyway, this year's windows at John Lewis are all about the penguins…and they're getting into a whole bunch of mischief. I was cracking up the whole time I was editing the photo of the penguins getting into the laundry. I'd been focusing on the penguin wearing the bra while taking the photo and totally missed the one with a pair of panties on his head until I got ready to put it on the blog! Cutest Christmas window award right here!
Liberty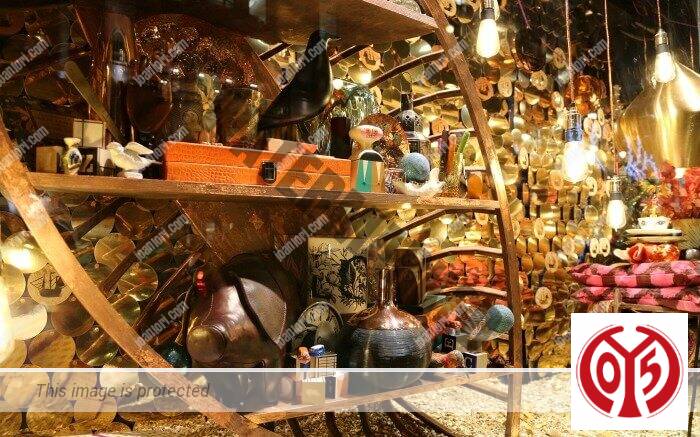 Last, but not least, the Christmas windows at Liberty on Regent Street are ready for a party! These windows are decorated with an eclectic mix of retro hanging lights and vintage gifts, all set against a backdrop made of glittery, gold discs. The theme this year was inspired by a piece of the store itself – the gold weathervane sitting atop it, made from pieces of two different warships. Nautical themed music can be heard playing in the store in between Christmas carols. Out of all the stores we window shopped at on this day, Liberty was the one that most made me want to walk inside. One day I'll be back!
Liberty was the last stop on our Christmas window walk. In all, it took us around three hours to walk to each of these places (and a couple that didn't get included on this list) with the only public transportation being needed from Knightsbridge to Green Park. The crowds were thick, but that's to be expected for a Saturday evening. In a way, I think it kind of adds to the experience to have to wade through hordes of people, but if you're claustrophobic, I'd recommend doing your window shopping/Christmas light admiring on a weeknight! But do get out at some point to see it all – it really is worth it!