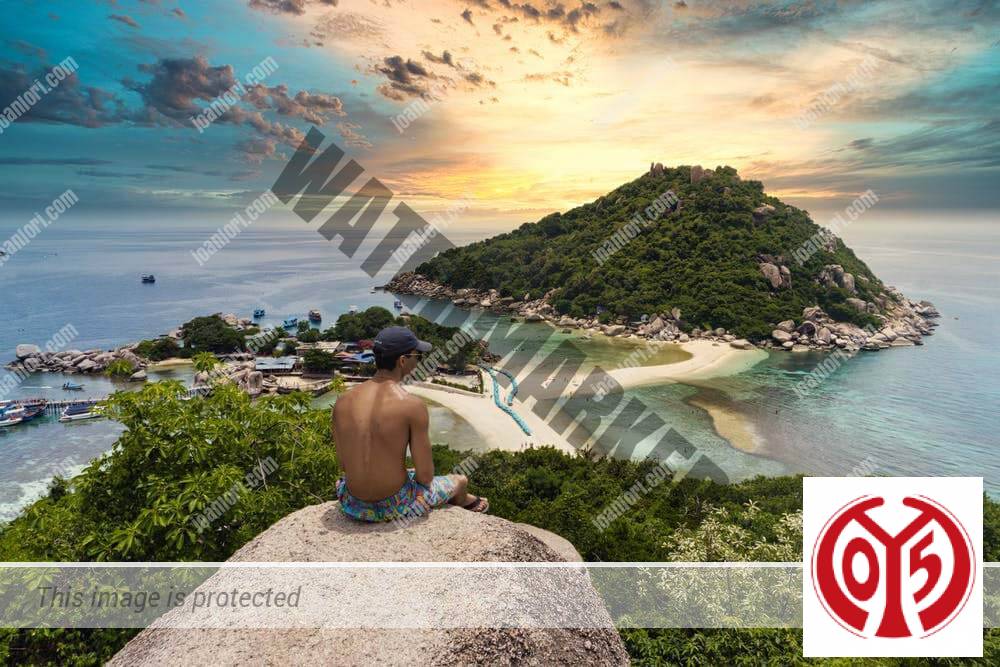 When I arrived in Koh Phangan for the first time in 2009, I instantly regretted my decision to go there. I'd spent two months traveling around Cambodia, Laos, and the Northern part of Thailand, and this Southern underbelly of Thailand came as quite as shock. I had chosen to stay in an area of the island called Hat Rin – where the infamous Full Moon Party takes place each year, and what I found there amazed me. There were literally tourists everywhere, swarming in and out of burger joints, swilling beer all over themselves on the beach, dancing in bikinis on stages. It seemed more like a scene I would expect in Magaluf or Ayia Nappa, but surely not in Thailand?! Groups of men dressed in 'tour' T-shirts chanted football slogans, women dressed in next to nothing flirted outrageously with everything in sight. It was my personal idea of hell. At that time I didn't know how to drive a scooter or motorbike, and the songathew, which made up the only public transport on the island, were extremely expensive, meaning I wasn't able to move from Hat Rin beach. I was quite simply stuck there. When I left, only a few days later, I swore to myself I would never go back.
In the summer of 2011, somehow my friends convinced me to go back on my promise. "But Nat! It's the full moon party! If we are going to Thailand we have to go to the full moon party!" they moaned. We had two weeks off from working in Korea and Thailand was our cheapest holiday option, so I was once again going to be heading out there. After a lot of complaining, my friends eventually won me over. "It's just for a few days" they told me, and I begrudgingly accepted that a few days of crazy partying couldn't be too bad.
We booked our hotel fairly late, and instead of finding somewhere near to the full moon party, we were only able to get rooms in a hotel right the other side of the island. This was a blessing in disguise, although I had no idea at the time. When it finally came to our arrival in Koh Phangan, we were picked up from the port by songathew, and taken straight to our hotel. I could not have been more surprised by what I saw. As we made the short trip from the pier to the Northern part of the island, I saw that Koh Phangan had a lot more to offer than the little beach of Hat Rin. Smoothly tarmaced roads weaved through endless coconut plantations, with emerald green mountains looming large in the backdrop.
It didn't take me long to decide that it was time to get exploring. Thankfully I had learnt how to drive a scooter in Sri Lanka the previous year, and so I asked my hotel to organise a scooter rental. (read tips on scooter rental in Thailand here) Within just a few hours of arriving in Koh Phangan, I was off on an adventure! Our hotel was located in Chaloklum, which is literally the furthest Northern point of the island, and in this part of Koh Phangan you can drive for almost half an hour without seeing another person. The road map of the island is extremely simple, and you can get all the way from one side to the other on virtually the same road – although its a good one and a half hour drive if you're on a scooter (quicker on a motorbike I'm sure!)
Over the next week (yes I spent an entire week there in the end!) I toured Koh Phangan extensively, finding that there were more and more secrets to be uncovered. The roads are blissfully smooth and the vistas are simply breathtaking, making it easily the best place I've ever driven. With the wind in your hair, the sun on your back, and barely a tourist in sight, it is quite easy to forget the outside world on Koh Phangan's long winding roads. So, what is there to do in Koh Phangan if you've got a set of wheels, and you can keep yourself sober for long enough to drive?
Well, the Northern part of the island is an excellent place to start. Chaloklum offers elephant riding, and has a crocodile farm, although the coastline in this area is nothing much to write home about. That being said, just East of Chaloklum is the beautiful bottle beach, where the sand stretches out into a walkway through the sea that leads to another small island. The island itself is desolate to say the least, but the beach and surrounding sea provide an excellent spot to escape from the mass hoards of tourists in the Southern part of the island, and the reef means that snorkling around this area is not bad too.
Towards the West of the island is my favourite attraction in Koh Phangan – Laem Son Lake. The lake is perfectly safe to swim in, and a few breezy, mellow bars by the lakeside offer rope swings and various watersports activities, making it an excellent place to stop off and cool down during the middle of the day when temperatures reach scorching. The West coast also has some fantastic beaches close to the pier, with barely a tourist on them.
On the lower East side of the island there are some beautiful bays, and also a popular health spa called The Sanctuary which offers yoga, spa and beauty packages, and is tucked away on a nice little beach called Haad Tian.
And in the South, if you really must go there is Hat Rin. Famous for full moon parties, half moon parties, black moon parties, and basically any other type of excuse for a party the bars and tourists can think of. If you do drive down to this area of Koh Phangan, be especially careful as the drive is certainly not one for beginners. The winding roads on perilously high cliffs have killed many tourists in the past. It's a stunning drive to do in the day time, but do not attempt to do this at night unless you are a seasoned driver, and definitely do not attempt this drive after a few cocktail buckets in Hat Rin.