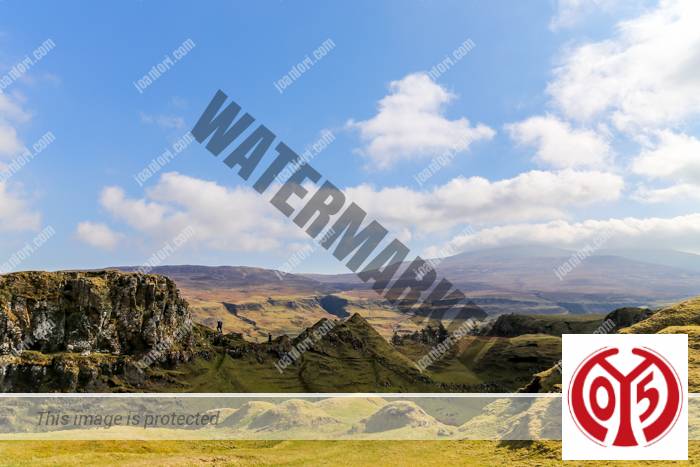 Our time on the Isle of Skye was relatively short, only two full days and part of a couple others, but I feel quite proud of everything we were able to see and accomplish in that amount of time. We hiked, we drove along scenic roads winding through the mountains, and we stopped about every 12 seconds to take another photo. It was an unforgettable experience. An experience that deserves way more than the grossly over-used "list post", but unfortunately that's all I've got for you today. My apologies. But hopefully this will still give you a little taste of what the Isle of Skye has to offer.
Two days on the island certainly didn't make me an expert, so these are by no means the "best" hikes and scenic locations on Skye, but they are ones I carefully chose for our trip from this wonderful website by a writer who does appear to be a Skye expert. (If this post piques your interest about the Isle of Skye, I recommend using that site for trip planning purposes. It is extremely helpful.) Every trail we hiked and every place we made a point to stop at just blew me away. I can only imagine how beautiful the parts of the island are that we didn't have time to make it to. I hope to go back in the future and see more, but for now, read on to hear how we kept ourselves busy for two outstanding days on Skye.
Fairy Glen
The Fairy Glen was the first stop of our first full day on Skye, and what a way to kick off a vacation. This natural wonder is a perfect spot for easy hiking – only a small bit of effort climbing to the top of the hills and you'll be rewarded with one magnificent view! No fairy sightings when we visited, though, I'm afraid. Perhaps I was too distracted by the brilliant scenery to notice them moving about in the trees and moss in the valleys of the Glen.
ocated in Uig, the same town as the Fairy Glen, is this hidden treasure. A bit difficult to find, but worth the effort once you get there, Rha Waterfall is not so much a hike as a short walk. From the road, we descended the wooden/natural steps provided on the path and a few minutes later, bam! There she was! Down here in the valley, you can hear nothing but the sound of the falls. Surrounded by farms and off the beaten path for most visitors, it's a quiet, peaceful sort of spot.
A bonus for us, as we were descending the stairs, we came across a cow that had just given birth to the most adorable baby calf minutes before we passed. It was a really special moment watching the farmer help her stand for the first time. Cows and waterfalls – I might as well have been in Tennessee!
The Quiraing
A little further north in Trotternish is the Quiraing, an area of sloping landscapes and rugged cliffs with both challenging and gentler terrain for all levels of hikers. I also hear there are some pretty impressive views to be seen here, but thanks to a heavy fog that rolled in as soon as we arrived, I could only see about as far ahead as my hand could reach.
We had intended on hiking the 3-mile path that goes around the Quiraing, but not being able to see sort of hindered that plan. Instead, we just walked less than a mile across the hillside where it was still level and laughed at how ever-changing Scotland's weather is. (Can you believe this photo was taken just hours after the photo at Fairy Glen? Scotland's weather is bizarre!)
Staffin Beach
There are many places on Skye where remnants of the dinosaurs and the era they lived in are still apparent in the landscape, and the beach at An Corran in Staffin is one of these. A beautiful area with pretty walks along the rocky beach, our real reason for coming was to seek out the dinosaur footprints left here by a family of ornithopods a bajillion years ago. (Scientifically and mathematically speaking, of course.)
To see the footprints, it must be low tide with very little sand on the beach. Even in those conditions, you could still spend a good hour searching for the correct footprint in the rocks. (Trust me, after a while every little fissure in the rock looks like a footprint!) Luckily, after we'd been searching for a good while, someone else called out that they'd found it. I compared it to the picture I'd printed out and voila! I can say I've walked in the footsteps of the dinosaurs now! (That's my mom's foot there for size reference in case you decide to go looking for them on your own.)
Mealt Waterfall & Kilt Rock
There is a lookout point between Staffin and Portree where you can get a glorious view of Skye's famous Mealt Waterfall with Kilt Rock behind it in the distance. The falls flow from the top of the cliff, 200 feet high, into the Sound of Raasay below. It's an impressive sight, but the sort of place you probably won't spend a lot of time at. There is only one spot to get a good shot of the falls and then it's back to the car park and onto the next sight!
The Storr
To end our first day on Skye, we decided to stop and hike at the Storr since our hike at the Quiraing had been cut a little short. Everywhere we'd been on Skye so far had been relatively free of other people, until we got to the Storr. Throngs of people were making their way up and down the path to the Old Man of Storr, the pointy spot on the right in the picture. It's an easy walk, half of the path is laid in gravel, the other half is made of rocky steps on a well-worn dirt path. The only thing we struggled with was the wind.
In one day we'd gone from beautiful sunny skies to dense fog to some of the strongest winds I've ever been outside in. That certainly made the hike more challenging, but I had my happiest moment of the day when I reached the Old Man of Storr after having to crawl on all fours to keep from being blown down the cliff, and then turned around and saw the view. From here, you can see see all the way to the Scottish mainland with the sparkling sea and the islands of Raasay and Rona in between.
Portree Harbor
Chances are, if you're in Skye overnight, you're probably going to be staying in Portree. It's conveniently located for checking out the whole of Skye and it has more B&B's and restaurants than anywhere else on the island combined. So while you're there, make sure you take a walk down to the harbor. This was my favorite spot in town, and it's beautiful both by day and night. The cliffs emerging from the sea make a gorgeous backdrop to the collection of colorful boats bobbing in the harbor. And at night, when the restaurants along the water turn on their lights, their reflections dance over the glassy sea making for some pretty spectacular long exposure shots (if you're into the whole photography thing).
Ben Tianavaig
For a great vantage point of Portree and the bay, climbing Ben Tianavaig is a must. This was how we started our second day on Skye and it ended up being my favorite hike on the trip. We didn't quite reach the top, but we got close. Close enough that this was our view out over the bay to the mountains beyond. Just wow. I'm a sucker for water and mountains and an open sky, so this hike had everything going for it from the start. The path wasn't always easy to find, and we accidentally detoured off of it for awhile, finding ourselves climbing sideways and gripping on to prickly brambles to keep from falling, but hey, we still made it! And if we ever make it back to Skye, I'm doing it again, hopefully without the brambles incident.
The Fairy Pools
The majority of our time on Skye was spent north of Portree. Only on our second day did we drive south and see what was down there. Our destination – the famous Fairy Pools. Now, we went in April on a cold and windy day, all bundled up in our coats and scarves, but in the summertime, I hear this place is hopping with hikers and picnickers and people wanting to swim in the chilly, magical waters of the fairy pools.
It's a pretty good hike to the pools from the parking lot, but it's over even ground, so not particularly difficult, and it's worth it, of course, to see this unique natural wonder at the base of the Cuillins. The waters glow blue and green (from the magic of the fairies, of course!), but pretty as they were, there was no way I was going to take off my coat, much less jump in and experience the certain hypothermic shock that would have followed. (This coming from the girl who once broke the ice off the top of a lake so she could jump in! Getting old sucks sometimes.) If I'm ever back here in the summer, though, it's on!